AMY MacDONALD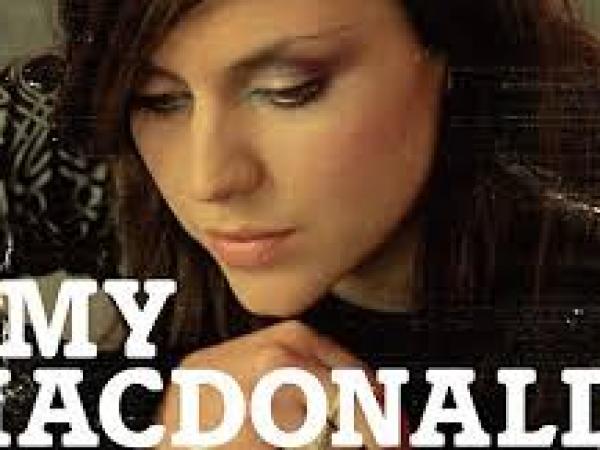 Amy Macdonald lives a life that's ordinary in every way but one. The 24 year old has sold over four million albums, conquered Europe and won countless awards. Yet when she arrives at a restaurant in Glasgow to discuss her glorious new album, Life In A Beautiful Light, no one bats an eyelid. Which is precisely how she likes it.
Macdonald has been famous since the age of 18, when she burst in to the charts with a debut album, This Is The Life, that bore the hallmarks of her homeland. Rootsy folk-rock might describe it, or just gutsy pop played on real instruments. There were no tricks or trying to keep up with trends. Live, Macdonald didn't need dancers, props or expensive light shows. Her image was as honest as her songs, in which real tales of real lives became stomping singalongs.
Six years on, Macdonald insists that little has changed. She looks sleeker and dresses smarter, she has bought her own home and the band with which she toured non-stop until the end of 2010 feels like a second family. But when it comes to her job as a songwriter, Macdonald remains a simple storyteller, albeit one with an ear for a magnificent melody and a striking way with words.
Last year, for the first time since she signed a deal aged 17, Macdonald took a break. She didn't travel the world looking for inspiration – there was one holiday to Dubai, but she got food poisoning on the plane out. She didn't hang out with other successful singers – she has always hated the celebrity scene. She didn't have a devastating break-up, fall head over heels in love or spend her days soul-searching. Instead, she had fun with friends, pursued her hobby of racing cars and hung out at home listening to the radio and watching the news on TV.
"It was lovely to have a year off," says Macdonald. "There was no pressure. Whenever an idea popped in to my head, I would get out my guitar and press play on my Mac Book. I wrote A Curious Thing [her second album, released in 2010] while touring the This Is The Life. There was no time off because my debut started selling across Europe – first the Netherlands, then Germany, Austria, Switzerland, Spain. It was incredible, but I felt under pressure to rush out a second album. This time, it was a much more natural process."
Two songs for Life In A Beautiful Light were begun before the break. Heady, air-punching anthem In The End, which closes the album, was written at the tail end of Macdonald's last tour, when she found herself questioning whether being a musician was a worthwhile occupation.
"It's very rare that I write about myself," she laughs. "But that song is me pondering what I'm doing with my life. My sister's a doctor, she helps people every day. Do I help people? I thought about it and realised that making music is a contribution. I get so many letters from fans saying they feel better when they listen to my songs. So I'm not as bad as I thought!"
The other was the sprightly, strings-soaked Human Spirit, which Macdonald wrote about the Chilean miners' nail-biting rescue.
"How could you not be inspired by that story?" she says. "I felt compelled to write about it. I've always been a narrative songwriter, inspired by actual events. Every human emotion was etched on the faces of those miners' families. I went through most of them myself."
Macdonald's great gift is not only to capture those emotions in song, but to describe real events in a way that relates to the lives of her fans, be they in Britain or abroad, where her honesty and earthiness has won her armies of fans and seen her sell out stadiums. Life In A Beautiful Light does precisely what the title suggests – it's a life-affirming set of songs steeped in optimism.
Hope seeps from the majestic, shimmering Across The Nile, a song inspired by Egyptians celebrating the recent downfall of President Mubarak. Joy drives the raucous, rollicking 4th Of July, on which Macdonald recalls a childhood trip to New York with her family on Independence Day.
"I was watching the 10th anniversary of 9/11 on the news late last year," recalls Macdonald. "I'm a very emotional person, I could cry at anything. But what I remember about my first visit to New York was watching the fireworks and feeling incredibly happy. So much bad has happened to the city since, but it's still an amazing place. I wanted to write an upbeat song to celebrate New York."
A lifelong Rangers fan, Macdonald was twice inspired by football. The Green And The Blue, which features football crowd chants, is an optimistic ode to the rivalry between Celtic and Rangers.
"Football is a big part of my life, of anyone's who lives in this city," says Macdonald. "I have friends who support both teams, all of whom get on. I wanted to say that there is a positive side to the rivalry, not just the bad that folk always focus on".
Pride is a classic Macdonald track that 50,000 Scottish football fans will claim as their own. It could be an anthem for the Olympics, but in fact it was penned about the singer performing at Hampden Park.
"I've been asked loads of times to sing for the Scotland team," says Macdonald. "I did the whole campaign for the European qualifiers. It's an amazing feeling, so emotional, but I never get nervous. There are 50,000 people singing and you are leading them, literally covered in goose bumps. It's an honour."
Heart breaking ballad Left That Body Long Ago deals with the devastating disease Alzheimers, from which Macdonald's gran suffered before her death a decade ago.
"When my nan was still alive, my mum would always say, 'Don't worry, it's not your nan anymore, she's left that body'. That made it easier for me to deal with. So many of my friends now have relatives with the disease. I wrote the song for them, because it might help. One of them burst in to tears when they heard it. They knew exactly what it was about."
Revealing the stories behind the songs is typical of Macdonald. She doesn't want to be oblique, to appear mysterious. She'll happily admit that album opener Slow It Down is about nothing more meaningful than her being a petrol head.
"I've done track days at Silverstone and at Mercedes Benz World in Surrey," she says. "I adore fast cars. I'm addicted to Top Gear. My aim is to get a racing licence."
The 24 year old is as full of life as her songs, or perhaps her songs simply reflect her own happiness. She has never felt better about being a singer, and never sung better. Her fans will notice her range on this record – there are songs, such as bluesy, strings and brass-backed belter The Game, that she couldn't have attempted in her teens.
"I've definitely grown in to my voice," she agrees. "My range has gone crazy, probably from all the touring and singing every night. My voice is much more powerful and I can control it a lot more. I never get sore throats. I can sing higher songs and hit lower notes. "The Game is a song I wouldn't have tried to sing when I started out. It's a different style of song for me, but everyone who heard it insisted I include it."
Life In A Beautiful Light was recorded in two sessions in Surrey last year with Macdonald's longtime producer Pete Wilkinson. There are no co-writes and no guests – her live band and a few other musicians provide the backing. Earlier this year, the album was mixed by Bob Clearmountain, who worked on Macdonald's debut.
"It's always good to have a man who mixes Bruce Springsteen," says Macdonald, a Springsteen devotee, who now also counts Noah & The Whale and Lana Del Ray among her iPod favourites. "Bob was such a fan that he sent me over all this equipment – brilliant mics, software and stuff. But I'm such a technophobe, I have no idea how to use them.
"I like the simple life. I like songs you can sing along to, songs that say something. Oh, and racing cars. And running in the sunshine, listening to great music. Although living in Glasgow, I'm usually running in the rain."
Upcoming shows:
Past shows:
26.07.2014 - AMY MacDONALD @ München (D)
26.07.2014 - AMY MacDONALD @ München (D)